Copyright; Permitted Uses; Restrictions on Use
Materials available in John Stefanidis Brand websites are protected by copyright law.
Copyright © 2008 John Stefanidis Brands Limited. All rights reserved. Reprinted with the permission of John Stefanidis Brands Limited. Except for these specified uses, no part of the materials available in any John Stefanidis Brand website may be copied, photocopied, reproduced, translated or reduced to any electronic medium or machine-readable form, in whole or in part, without prior written consent of John Stefanidis Brands Limited. Any other reproduction in any form without the permission of John Stefanidis Brands Limited is prohibited. Distribution for commercial purposes is prohibited.
Written requests for reprint or other permission should be mailed or faxed to:
John Stefanidis Brands Limited
Unit B, The Imperial Laundry
71 Warriner Gardens
London, SW11 4XW
United Kingdom
John Stefanidis Brands Disclaimer"
The content of the website is for general information only and does not constitute any form of advice or recommendation upon which a specific decision should be made. John Stefanidis Brands Limited has done its best to ensure the accuracy and currency of the materials contained on its website but excludes any warranty express or implied as to quality, accuracy, timeliness, completeness or fitness for a particular purpose of the material contained this website. John Stefanidis Brands Limited will not be liable for any claims, penalties, loss, damages or expenses arising from the use or the inability to use the website or from any unauthorised access or alteration to the website [by a third party]. This clause shall not exclude liability for death or personal injury directly caused by the negligence of John Stefanidis Brands Limited.
John Stefanidis Brands Limited accepts no responsibility for loss or damage that may arise from reliance on information or advice contained on its website.
John Stefanidis Brands Limited website includes links to external websites. These links are provided to help you find additional information quickly and easily. John Stefanidis Brands Limited accepts no responsibility for the content of these websites and specifically excludes to the fullest extent permitted by law all liability that may arise with respect to or as a result of such material causing damage, costs, injury or financial loss of any kind.
Whilst John Stefanidis Brands Limited websites may from time to time contain advertising material, John Stefanidis Brands Limited does not endorse or accept any liability for any of the products or services so advertised, or for any error or inaccuracy in the advertisements. Advertisers and sponsors are responsible for ensuring that material submitted for inclusion on the website complies with all relevant laws.
These terms are not intended to confer any benefit on a third party under the provision of the Contracts (Rights of Third Parties) Act 1999.
Any rights not expressly granted herein are reserved to John Stefanidis Brands Limited.
John Stefanidis Brands Limited reserves the rights at any time to suspend or terminate your access to or use of the website.
(a)These Terms & Conditions of use shall be construed and interpreted in accordance with English law. The courts of England shall [subject as set out in clause 17(b)] have exclusive jurisdictions in relation to any claim, dispute or other matters arising therefrom.
(b) For the exclusive benefit of John Stefanidis Brands Limited, it shall retain the right to bring proceedings in the Courts of the country of residence of any user of the website.
We may intercept and monitor all communications with John Stefanidis Brands Limited.
If any provision of these terms and conditions is found to be invalid by any Court having competent jurisdiction, the invalidity of that provision will not effect the validity of the remaining provisions of these terms and conditions which shall continue to have full force and effect.
The failure by John Stefanidis Brands Limited to exercise any right or remedy under these terms and conditions shall not constitute a waiver of that right or remedy.
Privacy Policy
John Stefanidis Brands Limited takes your privacy seriously. Please read the following to learn more about our privacy policy.
What this Privacy Policy Covers
This Privacy Policy covers John Stefanidis Brands treatment of personally identifiable information that John Stefanidis Brands collects when you are on the John Stefanidis Brands site, and when you use John Stefanidis Brands online services. This policy also covers John Stefanidis Brands treatment of any personally identifiable information that John Stefanidis Brands business partners share with John Stefanidis Brands.
This policy does not apply to the practices of companies that John Stefanidis Brands does not own or control, or to people that John Stefanidis Brands does not employ or manage.
Information Collection and Use
When you use the contact form on the John Stefanidis Brands site, we ask for your name and email address. Once you request information from John Stefanidis Brands you are not anonymous to us.
John Stefanidis Brands uses information for two general purposes: to fulfil your requests for certain information and services, and to contact you about promotions.
Information Sharing and Disclosure
John Stefanidis Brands will not sell or rent your personally identifiable information to anyone. John Stefanidis Brands will send personally identifiable information about you to other companies or people when:
- We have your consent to share the information;
- We need to share your information to provide the product or service you have requested;
- We need to send the information to companies who work on behalf of John Stefanidis Brands to provide a product or service to you; (Unless we tell you differently, these companies do not have any right to use the personally identifiable information we provide to them beyond what is necessary to assist us.);
- We respond to subpoenas, court orders, any legitimate request by authorities with which we must comply or legal process; or
- John Stefanidis Brands may transfer information about you if John Stefanidis Brands acquires, or is acquired by or merged with, another company. In this event, John Stefanidis Brands will notify you before information about you is transferred and becomes subject to a different privacy policy.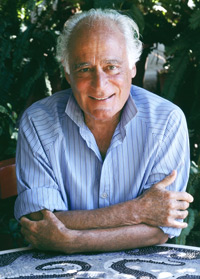 John Stefanidis is a world renowned and much sought after interior designer with a prestigious, international clientele. If there is such a thing as a John Stefanidis 'look' it would combine a bold and original use of vibrant colour, an eclectic and cosmopolitan aesthetic, great sensitivity to elegant proportions and the client's requirements and, above all, great comfort with style.
Born in pre-war Alexandria and educated in Egypt, John moved to the UK to study at Oxford University. After several years in advertising both in London and Milan, his shift towards a career in interior design began after he renovated a 16th Century house on the Greek island of Patmos in the Dodecanese.
In 1967, he established his architecture and interior design practice from a studio in Chelsea, London since when he has maintained the highest standards of creativity and design.
John Stefanidis Brands Limited specialises in the architectural and interior design of both residential properties and hotels across the globe, maintaining long-term relationships with their clients.
In the course of designing the interiors of his clients' houses, John has also created original fabric and furniture ranges which have been influenced by his many travels and his renowned eye for ergonomic design and bold colours.
Further useful biographical and design information can be found in his books: Rooms – Design & Decoration 1988, Living by Design 1997, John Stefanidis Designs 2002. An Island Sanctuary: A House in Greece 2010